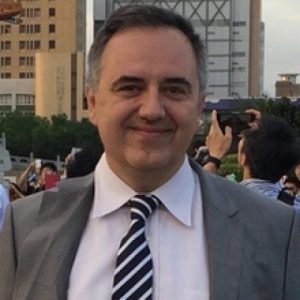 Full Professor and Research Supervisor
Human Centered Design Group
section CNU 61

Director GEMTEX international relations
Research skills
Smart textiles, 
wearables, 
e textiles, 
smart structures,
monitoring
Research interests
Theme 1: Design and realization of smart and e-textile structures for medical, professional, military and safety and security fields of application.
Theme 2: Energy harvesting and storage in textile and other flexible structures. Textile NFC antennas, metamaterials, short- and long-range energy harvesting and communication.
Theme 3: Building international standards for e-textile wearables, quality and reliability, testing methods, guidelines for electronics manufacturers to enter e-textile market.
Coordinators:
EU Project ETEXWeld (H2020 MSCA-RISE-2014:Marie Skłodowska-Curie Research and Innovation Staff Exchange (RISE), Title: Welding of E-Textiles for Interactive Clothing) 01/01/2015 – 31/12/2018


EU Project IP (Integrated Project) FP7, MAPICC 3D (Manufacturing systems for 3D-shaped, multilayered products based on flexible materials), 01/03/2010 – 28/02/2014, V. KONCAR Scientific coordinator,


National French Project ANR FLEXITHERALIGHT, Ministry of Research,(Développement d'un textile diffusant la lumière pour le développement de photothérapie dynamique pour le traitement des Kératoses actiniques en dermatologie), 01/12/2012 – 30/11/2014, V. KONCAR Coordinateur du projet,


B to B Industrial Project, Company @HEALTH, Titre Développement de textiles instrumentes intégrant des électrodes organiques de mesure de bio potentiel et de bio impédance, 01/07/2016 – 31/06/2019,


B to B Industrial Project, Company Petit Bateau, Développement de textiles instrumentes intégrant un dispositif permettant de gérer le problème d'énurésie, 01/01/2018 – 31/12/2020
Partners:
EU Project TEXMODA (ERASMUS+ 2017-1-LT01-KA203-035160, Title : Advanced Technologies for Textile and Fashion Industry), 01/12/2017 – 31/12/2019


EU Project MadMax (FP7-NMP-2013-CSA-7, Title: Advanced Material Textile for Reinforced Structures for Complex Lightweight Applications), 01/01/2016 – 31/12/2019


EU Project IP (Integrated Project) FP7, PHOS ISTOS (Development of biophotonic device based on flexible light emitting textile dedicated to the monitoring and treatment for dermatologic diseases and carcinoma), 01/12/2013 – 31/05/2018


EU Project (Integrated Project) FP 7, INTIMIRE, (Intumescent materials with fire retardant and flame-resistant properties for sectors of transport and construction) durée 2010 – 2013,


National French Project ANR SAFIRS, Ministry of Research, (Système de filtration de l'air intelligent et détection à distance), 01/10/2019 – 30/9/2022


National French Project ANR CONTEXT, Ministry of Research, (CONnected TEXTiles for on body-centric communications), 01/10/2017 – 31/03/2021


National French Project ANR HOMO TEXTILUS, Ministry of Research, (Le Vêtement Interactif et ses accessoires : prospection de l'habillage intelligent du corps), 01/02/2012 – 31/01/2015, participation scientifique, budget GEMTEX 142 449,00 €.


National French Project ANR NUMTISS, Ministry of Research, (Numerical modeling of weaving process of fibrous reinforcement for composite materials), 01/03/2010 – 01/03/2013


National French Project FUI, LITEVA, Ministry of Industry, (Lighting Interieur TExtile pour Véhicule Autonome), 01/10/2017 – 01/10/2020


National French Project FUI, INTELLITEX, Ministry of Industry, (Flexible technologies for the production of smart textiles and garments)
[1] Handbook of Smart Textiles, SPRINGER, Section Editor: Vladan Koncar – Hardcover ISBN: 9789814451444 – eBook ISBN: 9789814451451 – Imprint: Springer Science – Published Date: 2015 – Page Count: 1063
[2] Smart Textiles and Their Applications, first edition, ELSEVIER London, – Editor: Vladan Koncar – Hardcover ISBN: 9780081005743 – eBook ISBN: 9780081005835 – Imprint: Woodhead Publishing – Published Date: 9th May 2016 – Page Count: 746
[3] Smart Textiles for In Situ Monitoring of Composites, 1st Edition ELSEVIER London, – Author: Vladan Koncar – Paperback ISBN: 9780081023082 – eBook ISBN: 9780081023099 – Imprint: Woodhead Publishing – Published Date: 9th November 2018 – Page Count: 422
Plus : 27 Chapters in books
105 papiers published in peer-reviewed scientific journals

148 papiers presented in international scientific conferences

 

7 International patents

47 plenary presentations in international conferences
List of publications on ResearchGate: https://www.researchgate.net/profile/Vladan-Koncar
System modelling and control – Automation,
Information systems of enterprises,
Computer networks, Virtual merchandising,
Smart textiles – displays,
Modelling and simulation
2010 Doctor Honoris Causa, Gheorghe Asachi Technical University of Iaşi, Iasi, Romania

 

Industrial Engineering

2020 International best researcher of the year, RULA Award, Trichy, Tamilnadu, India

2019 Ordre des Palmes académiques, Grade Chevalier, French Prime Minister Award

2021 Rising Star Award, IPC, International Printid Circuit Board association

www.ipc.org

2022 Golden Gnome Award, IPC 2022, International Printid Circuit Board association

www.ipc.org

Since 1995: PEDR (Award for PhD students and research supervision) received annually from the French Ministry of National Education